| | |
| --- | --- |
| From black to red to your plain 'ol colored sand, the beaches of Hawaii are far from standard. There is even a beach made from broken glass, worn down by the waves to form a beach unlike one you have ever seen | See the Glass Sand Beach - Quicktime or Windows Media |
| Many waterfalls along the Hana Highway on Maui- Quicktime or Windows Media | A blowhole spewing ocean water in Kauai |
| Go underwater swimming with fish and feel the expanse of the ocean. | Flowers and other bits of nature are hidden all over the islands. From banana plants to lovers that have etched their names on the leaves of a thick-leaf plant. |
| Lava Flowing - Quicktime or Windows Media | Where did it all come from? These islands are volcanic and formed while the plates of the earth moved. They are still growing, watch lava flowing into the ocean at night, exploding glass bubbles filled with hydrochloric gas. In other holy areas, smoke rises from the earth in a barren land of sulfuric smoke. |
Fly through the gorgeous red Waimea Canyon, what Mark Twain called the Grand Canyon of the Pacific.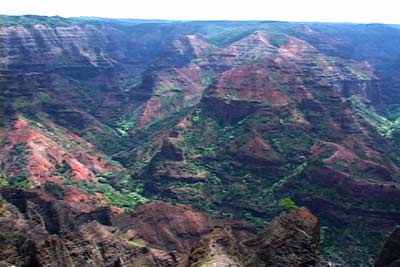 Then, penetrate the Napali Coast, where hippies went to hide from the war and others have died fighting the wave's undertow.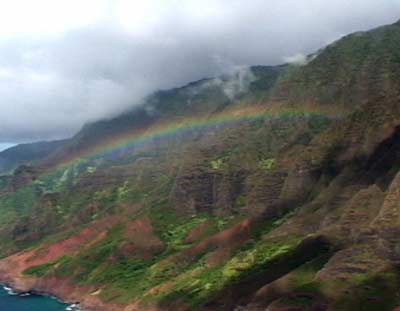 Napali Coast - Quicktime or Windows Media

Bali Hai - the island that appeared in the movie South Pacific, is really attached to Kauai. While overlooking a cliff, watch the lower clouds move from south to north, and the upper lighter clouds move west to east. All caught over the course of 12 hours and culminating in a breath-taking sunset.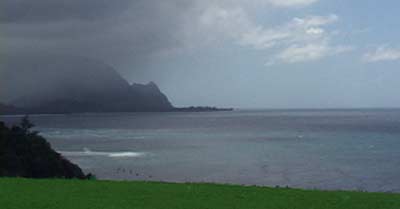 Bali Hai Sunset - Quicktime or Windows Media
Puff the Magic Dragon lived by the sea, and the place where Peter, Paul and Mary had him live was Hanalei Bay in the Hawaiian Islands. This taro field, one of the starchy staples of the Hawaiian diet, grows in this farm plot 1 mile from Hanalei Bay.

This video is set to lush ambient techno - pleasant upbeat music that will make your dreams of Hawaii even sweeter. The stereo DVD has a chapter selection menu for ease of repeated watching of special sections.
Price & Payment:
$20 plus shipping for an NTSC DVD-R(add $3.50 in the USA for shipping). We can take PayPal (Sign up here if you need to set up an account with PayPal, new members even get $5 for signing up.) PayPal also works in many other countries. We can also take cash and money orders. If you prefer a VHS tape, in either NTSC, PAL or SECAM, please contact us.
Please send this info for a smooth order:
Email with the following info(copy and paste for ease...)
Real Name:
Email Address:
Shipping Address:
Payment Method: Paypal/Cash/MO